A self-paced course that helps you let go of fear and gives you the tools for authentic creative expression
Do you ever feel that you're not artistic?
Do you feel like negative thoughts keep you from being free to create authentically?
Do you have trouble coming up with ideas or knowing what to draw or paint?
Are you an experienced artist who is feeling stuck?
This is the course for you!
There is something very healing about creative expression and embracing the artistic, soulful part of ourselves can have incredible benefits in our life.

Too often fear and self-judgement holds us back from exploring that authentic side of ourselves.
In this course I will walk you through a process that includes exercises I've found along my journey that will help you get passed the fear that may hold you back and learn how you can express your unique creative voice. I will guide you through exercises that will help you trust your own creative process, unblock your mind and begin creating from your heart. You will use your intuition to guide you through fun and playful exercises in the privacy of your own home!
This course is all about the freedom to explore. I teach my students how to utilize their sketchbook as a means of exploration. When we free ourselves from the confines of what we believe artistic talent should look like, and embrace our ability to learn through play, we begin to see ourselves differently.
A sketchbook is a place to take chances; it's a safe playground, free of judgement. I will take you all the way through a project from creating time and space for creativity, finding inspiration, learning how to use the tools through play, exploring what is meaningful to you and then creating a final product through brainstorming. You will begin to see your unique style and creative expression emerge. Whether you are just starting out in a creative field or are more advanced, this process will give you the tools you need to begin to embrace your unique creative voice.
No art experience necessary! Open to beginners or advanced students. You will use techniques such as collage, drawing, journaling and painting

Experiment with various mediums and styles such as watercolor pencils, pens and collage

Move past fear and into play through fun exercises that will help you loosen up and encourage your inner artist

Learn a creative process that will teach you how to create an entire project from inspiration to completion

Using your sketchbook as a guide, you will begin to see your own style emerge through observing what naturally draws you to creative flow

Gain confidence to keep a creative practice that will enrich your life

Get encouragement from others who are on their own journey and experience a warm and accepting community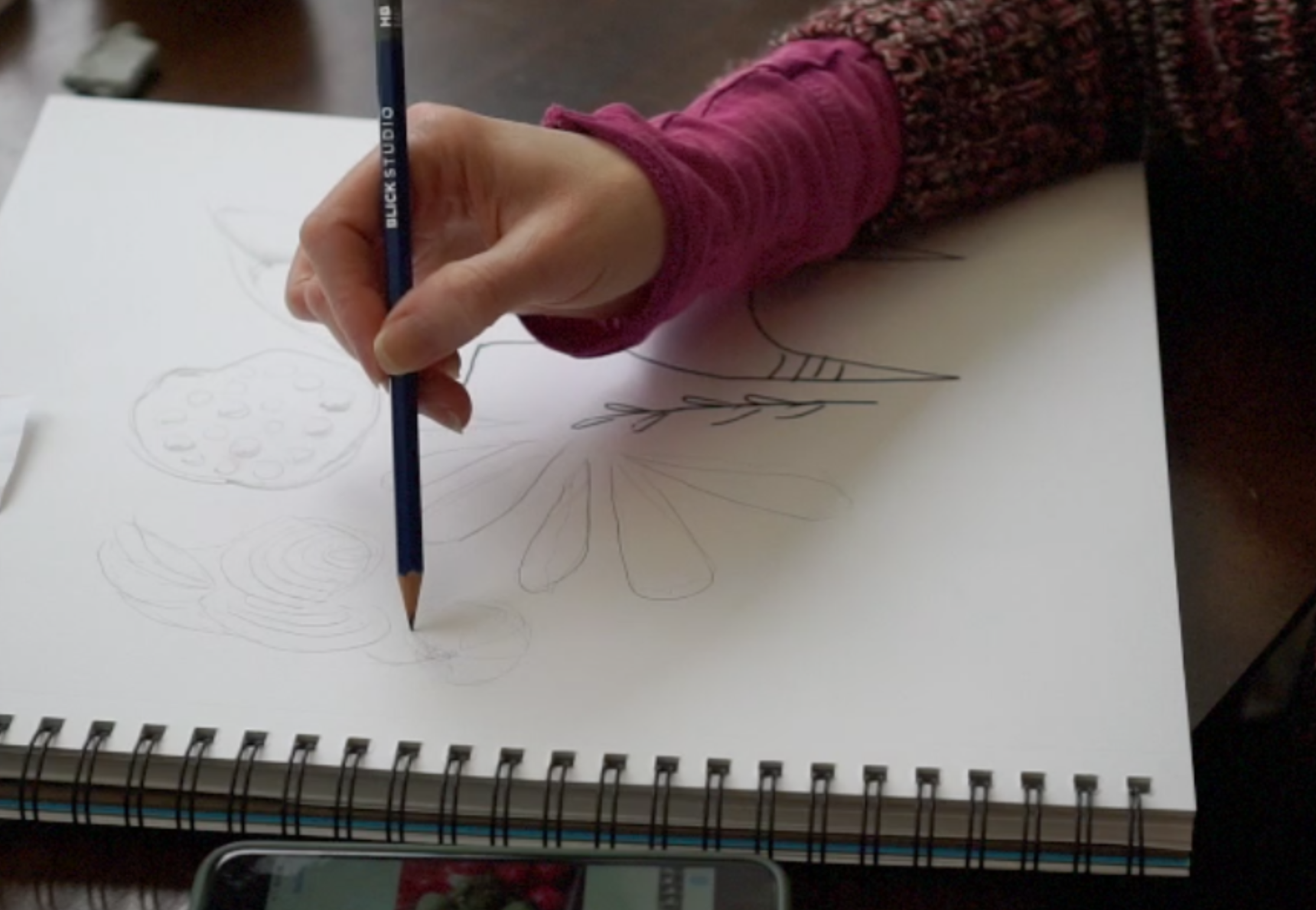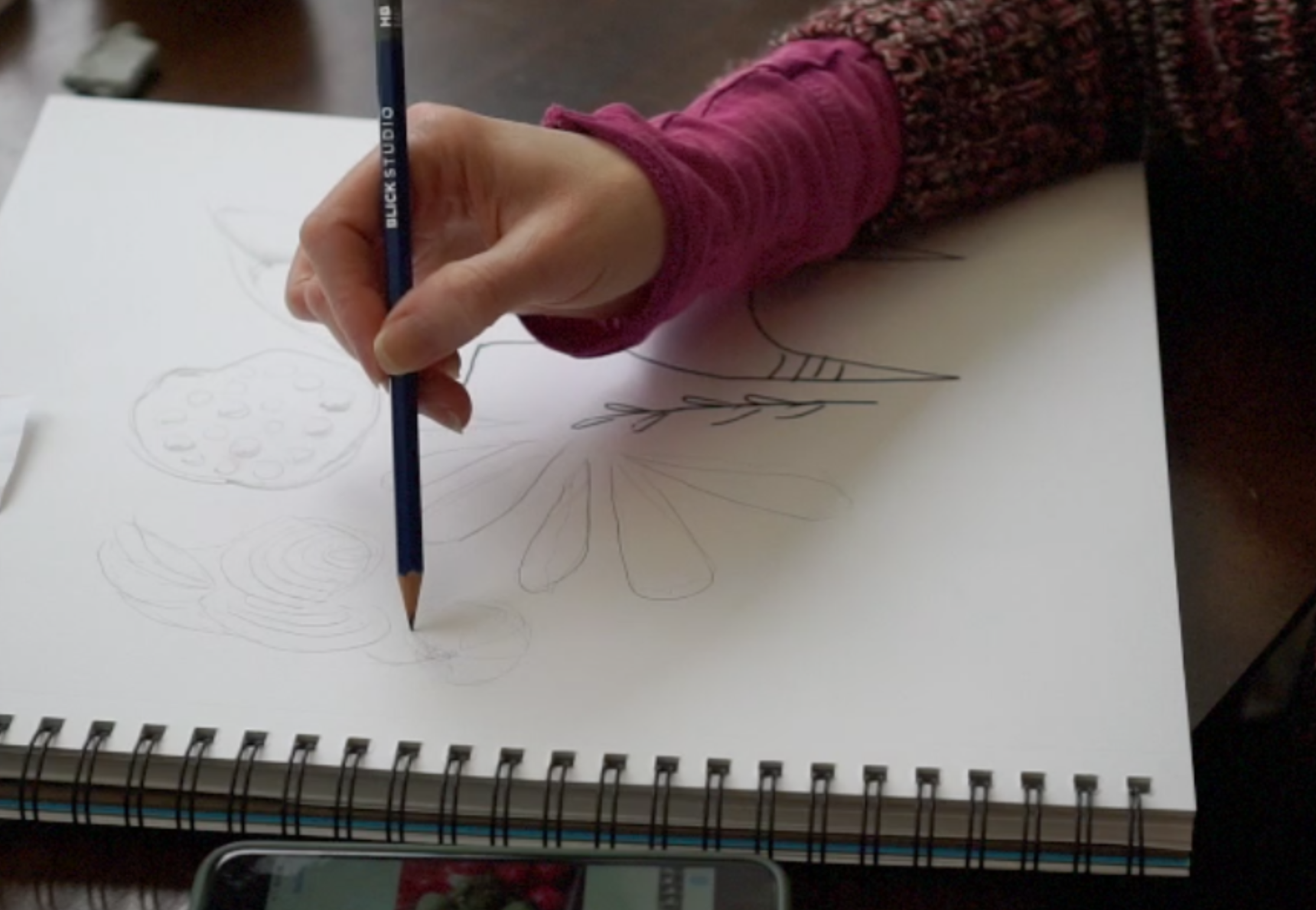 Finding your Creative Voice E-course $115
6 Modules and 12 exercises (plus 3 special Pintrest bonus exercises) that take you through an entire project from finding inspiration, getting in touch with your Inner Artist, learning how to use the materials and bringing it all together into a finished piece. You can access all of the videos right away so that you can work at your own pace. You will have access to all of the resources so that you can always catch up later.
WHAT'S INCLUDED:
10+ professionally shot videos filmed in my Seattle studio

6 modules, each with at least 2 creative exercises

Downloadable PDF's for each exercise, allowing you to keep up with the creative challenges and journal questions

Unlimited access to all videos and resources

3 Special Pintrest bonus videos and exercises - How to use Pintrest to activate your creativity!

Work at your own pace

Practical basic art theory lesson
*Class price does not include materials, download a list of materials here.
Sign up for my newsletter and get updates on my classes, fresh creative inspiration and tips to help encourage you on your creative journey. Plus, coupons for my shop and classes!
About Esther
Esther is a full time artist, illustrator and designer who has a passion for teaching. Most recently she has been teaching budding artists and designers at Cornish College of the Arts and IGIMO Art Station in Seattle.
Her work has been featured on stationery, textiles, magazines, advertisements, children's books and more.
Esther is inspired by travel, nature, color, texture, and seeing the extraordinary in the ordinary. Helping others find and express the creativity that resides inside of them is at the core of what brings her joy.
What Esther's students say about her:
"I loved the focus on being mindful and creative. This class created the time for me to listen to my inner-voice. I was able to be creative using innovative tools. It was nice to deepen past experiences (e.g., coloring and making collages). Esther is a gentle and apt instructor. She is passionate about opening up a space for folks to find themselves. She is willing to give input without being invasive. I really enjoyed the class and it is nice to look back on my projects and feel inspired to create more!"
- Christie
"Finding Your Creative Voice was a great experience! Esther created a fun and nurturing environment where I was able to explore the creative part of myself." - Jaimie
"Thanks for a fun and engaging class. I really enjoyed playing with the materials that I had and definitely feel inspired and more creative as a result. The ideas you presented to me are still percolating but I can see where they're going to be really wonderful in inspiring me to be creative in my life. There's nothing more relaxing than playing with our materials after a stressful meeting when I just need to release the pent-up nervous energy. Thank you for setting my creativity on its path to freedom." - Ashwani
"Great opportunity to relax in art, explore new media and ways to express." - Marnie
"I really enjoyed the class and trying something new. - Vera
"This class was so fun! Just as described. I had some doubts about how I would feel about my work, Esther made it really fun and free to make mistakes and just try something to see what happens." - Susan
"I feel empowered to explore and create in ways I never have before. This is an entire identity shift." - Blake
"Esther encouraged us to use our sketchbooks for ourselves. This was wonderfully freeing. A reminder not to let perfection get in the way of creativity " - Jen
"I thought it was great! From the very first class I discovered parts of myself that I didn't know and I was immediately intrigued and wanted to do more. I felt like I discovered my artist point of view and became less critical of myself. I also felt inspired to try everything, which opened a lot of previously shut door of discovery." - Marshae
"Awesome teacher, would love to take another class with her."
"Esther is so amazing!! Her enthusiasm about illustration and philosophy on drawing every day have really rejuvenated me after being burnt out on drawing for school for so long."
"Her style of teaching this class is awesome; she's not robotic; makes the course fun to explore, experiment and keeps it exciting to continue learning."